MHFAutoLighting
TURY FAST Kill Mode & THROTTLE RESPONSE CONTROLLER
Regular price
$414.00
$0.00
****Please allow up to 5-10 business days prior to shipping due to the special ordering of this item****
 PLEASE READ BELOW!

*** Special ordered parts such as this item are not eligible for returns only exchange. Paying For Faster Shipping  DOES NOT speed up production time***
TURY FAST KILL SWITCH & THROTTLE RESPONSE CONTROLLER
NOTE: Magic Key sold separately 

SECURITY FUNCTIONS
PEDAL LOCK (Anti-Theft)
The LOCK function is highly recommended to prevent unauthorized people from driving your vehicle, as it locks the accelerator pedal. LOCK is also the best protection option against the theft method of changing the ECU module.
For example, if letting your vehicle idle at a show or a race track to cool down the engine this function will remove the ability for a thief to drive away since the pedal will not function.
PARKING (Valet Mode)

The Parking function when activated will decrease the throttle response by 50-85%, limiting acceleration and preventing your vehicle from being misused or revving of the engine. 

FAST is a high quality product that allow faster response in acceleration in your vehicle, without causing any malfunction, electronic or mechanical incompatibility with the vehicle, preserving all warranty and original functionality.
The main function is acceleration response gain, reducing the original delay by up to 80% and giving the driver much more control over their vehicle. There are 4 acceleration maps (City, Tour, Sport ​​and Fast) available to the driver, each map with 9 selection levels, operated by the FAST panel. In addition to acceleration maps, the FAST product features two safety functions:
(1) Parking Function: When activated by the user (by password) limits the acceleration of the vehicle. Indicated for parking and other situations.
2) Lock Function: When activated by the user (by password) inhibits the throttle operation, making theft of the vehicle impossible.
FAST can be easily deactivated via the control panel, ensuring the driver immediately returns to the original condition of the vehicle. Its installation is made through the original connector already existing in the vehicle, in a simple way, keeping all originality and vehicle warranty and the original hydraulic protection.
When activated any acceleration in the vehicle, including reverse gear, will gain in response, according to the selected acceleration map level. It does not increase horsepower nor engine torque nor does it affect fuel consumption.
To learn more about the other features and functions of this product, please download its installation manual located on this page.
Compatibility: 
TURY FAST F 3.0- CADILLAC, CHEVROLET, CHRYSLER, DODGE, FORD, MAZDA, MITSUBISHI, RAM, VOLKSWAGEN, GMC, JAGUAR, JEEP, LAND ROVER, LINCOLN, MASERATI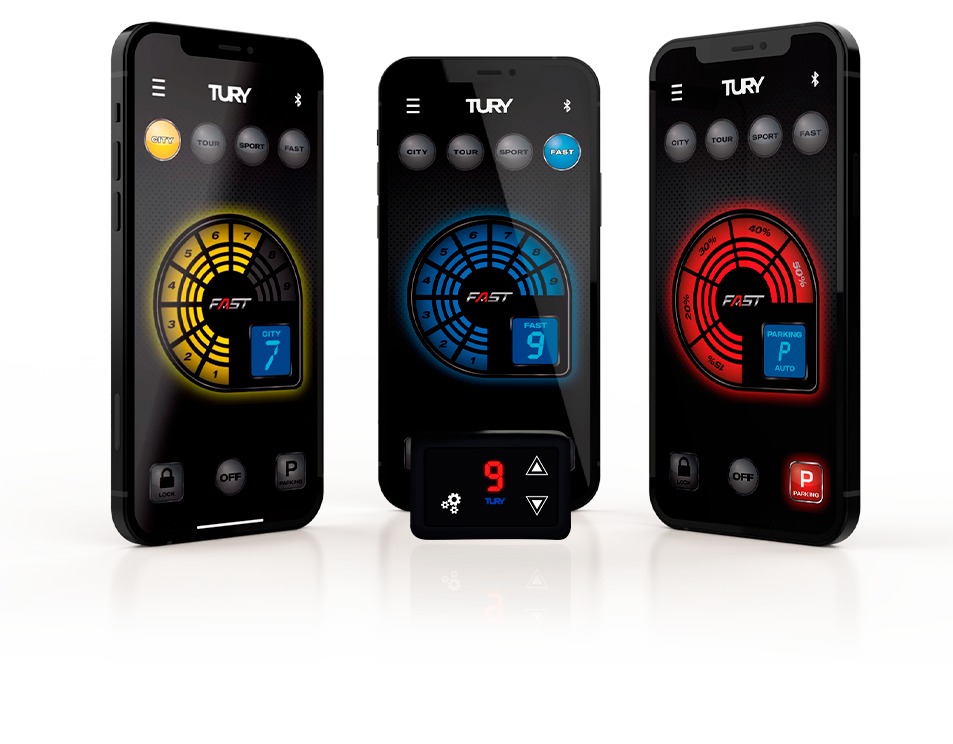 ---
More from this collection